There was an increase in Canadian home sales in August with a 1.4% improvement compared to July.
New data from the Canadian Real Estate Association also shows an increase in actual (not seasonally adjusted) activity of 5% year-over-year. This puts sales 17% above the six-year-low recorded in February of this year but still 10% below the highs of 2016 and 2017.
Winnipeg led the gains with a record-setting August and there was further improvement in the Fraser Valley. However, there were modest gains across most of the country and Moncton posted the largest decline month-over-month, returning to more normal levels following a spike.
Mortgage rates and house prices moved in homebuyers' favour in August.
"The mortgage stress-test has eased marginally and that's helped some potential homebuyers," said Jason Stephen, CREA's President, "but the extent to which they're adjusting to it continues to vary by community and price segment."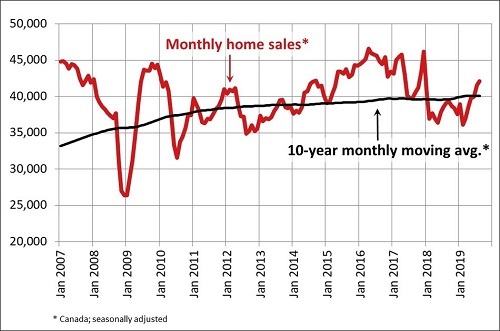 Inventory lowest since December 2017
There was a 1.1% month-over-month increase in new listings, but inventory continued is decline from the long-term average of 5.3 months.
August saw 4.6 months of supply nationwide and the sales-to-new listings ratio was 60.1%, unchanged from July and above the long-term average of 53.6%.
The tighter market supports price gains and the Aggregate Composite MLS® Home Price Index (MLS® HPI) rose 0.8% m-o-m in August 2019, the largest increase in over 2 years.
Home prices in Greater Vancouver and the Fraser Valley remain furthest below year-ago levels, (-8.3% and -5.5%, respectively), while Vancouver Island and the Okanagan Valley logged y-o-y increases (3.7% and 1.5% respectively).
Prairie markets posted modest price declines, while y-o-y price growth has re-accelerated ahead of overall consumer price inflation across most of the GGH. Meanwhile, price growth has continued uninterrupted for the last few years in Ottawa, Montreal and Moncton.
"The recent marginal decline in the benchmark five-year interest rate used to assess homebuyers' mortgage eligibility, together with lower home prices in some markets, means that some previously sidelined homebuyers have returned," said Gregory Klump, CREA's Chief Economist. "Even so, the mortgage stress-test will continue to limit homebuyers' access to mortgage financing, with the degree to which it further weighs on home sales activity continuing to vary by region."